Skip Navigation
Website Accessibility
PADI Instructors Available
Divemaster Course and Training involves " higher level learning" that begins in the Rescue Diver Course and continues with the Divemaster Course. The problem solving skills and accident management and prevention techniques are further developed together with your role as a mentor, supervisor and dive leader.

The Divemaster course is divided into three sections : Knowledge Development, Water Skills and Stamina, and Practical application. It is usual to progress through all three areas simultaneously with the practical application sessions – Internship, being dependant on Open Water Diver and other course logistics.
DIVEMASTER COURSE PRE-REQUISITES

Rescue Diver Certification
Current Senior First Aid Certificate or first aid courses can be arrange through the store at a an additional cost.
Dive Medical completed in the last 12 Months
40 Logged dives to commence the course
( Note : 60 Dives are required for certification)
18 Years of age
WHAT'S INCLUDED

- Divemaster Manual Crew Pack and Carry Case
- Instructor Manual
- Recreational Diving Encyclopedia and Workbook
- Encyclopedia Workbook
- Instruction by a Master Scuba Diver Trainer
- Use of Training Videos
- All aIr fills
- Instructor Mentor throughout your Training
- 4 free Boat Dives to Rottnest Island
- Equipment Servicing and Hydrostatic testing in our Equipment Service centre
- Instruction on Air Compressor Banks and Filling Station
- 15% Discount on Purchases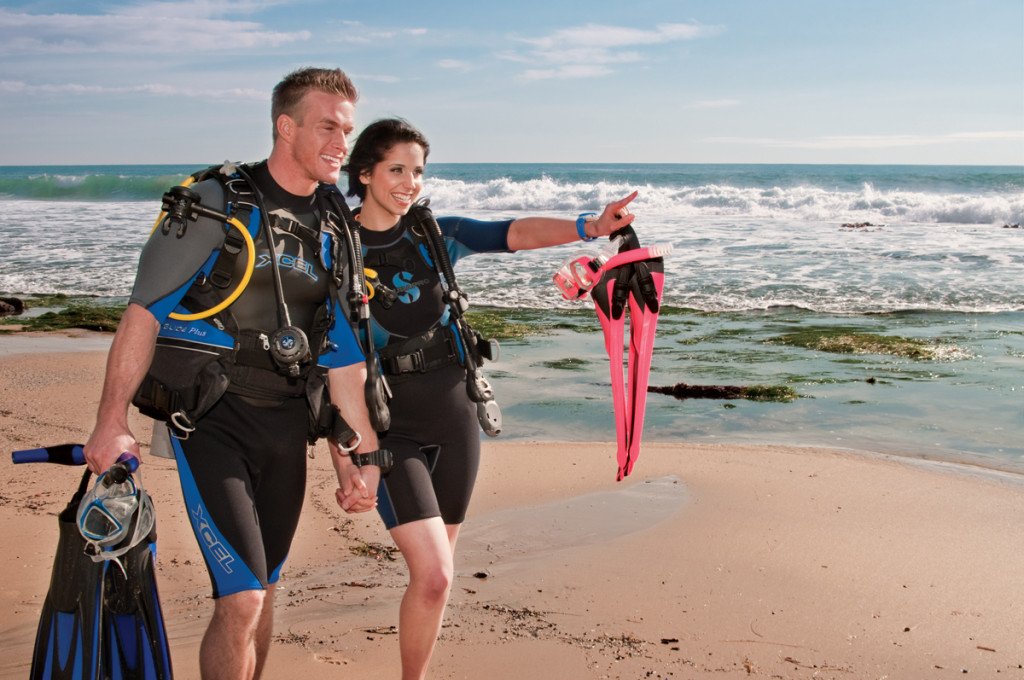 COST: $1295.00 – all manuals included plus 4 additional Dives to Rottnest Island

An Insured and certified Divemaster has the opportunity to make diving a professional activity either Full or Part time. Some of the duties you can expect to perform include increasing student ratios in dive courses and assisting the instructor with supervising students in training.

You are also able to conduct several courses independently like Discover Scuba Diving and local diving experiences or controlling divers on charter operations. The responsibilities are significant but the rewards and satisfaction are like few other careers.


COURSE STRUCTURE
The course is structured to meet each students individual needs and our normal course logistics. An approximate time to complete the course is around 50 – 60 hours which is divided between four areas:
| | |
| --- | --- |
| 1. Theory | 4. Confined/Open Water Sessions |
| 2. Watermanship | 5. Shop / Servicing training |
| 3. Practical Exercises | 6. Charter Boat Training |
1. Theory – Self Study and Theory Assessment:
Complete 12 knowledge reviews from the Divemaster manual. Complete Work Book exercises. Pass each of the eight exams by 75% : Physics, Physiology and First Aid, Equipment, Decompression Theory and RDP, Dive Skills and Environment, Supervising Activities for Certified Divers, Supervising Divers in Training and Divemaster conducted programs. Progressive review sessions are conducted with your Instructor to allow development of knowledge and understanding of Divemaster skills, principles and attitudes.
2. Watermanship:Requirements on Swim Tests, Skill Assessments and Rescue Assessments are significant and are therefore listed on a separate page. Click Here to be directed to these pages3. and 4. Pool and Ocean Dives – Complete the following:
Mapping a Dive Site
Stress Test
Simulated Dive Master Conducted program
Emergency Assistance Plan
Rescue simulation – details on watermanship link
6 Confined Water Sessions
6 Open Water training Dives
Assist in either Advanced, Rescue or Specialty course
Supervisory situation with certified divers not in training
5. Shop Training
Includes experience in filling cylinders and operating a fill panel
Training in our on site Hydrostatic test station
Training in general maintenance of Scuba Equipment
Training in general Nitrox Blending and procedures on our Nitrox fill station
6. Boat Divemastering
Training in the operation of a Dive Charter vessels during our Dive Charters to Rottnest Island..
7. Special Equipment DiscountDIVEMASTERS IN TRAINING ARE ALSO ABLE TO PURCHASE DIVE EQUIPMENT AT 15% OFF RECOMMENDED RETAIL PRICES – (excludes some specials and clearance lines).


Please call the shop on 9240 6662 for more information regarding this course